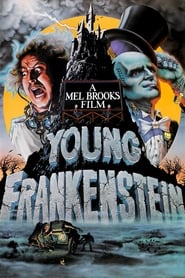 Young Frankenstein (1974)
Comedy, Science Fiction Movie 106 Min with the title Young Frankenstein (1974), story about A young neurosurgeon inherits the castle of his grandfather, the famous Dr. Victor von Frankenstein. In the castle he finds a funny hunchback, a pretty lab assistant and the elderly housekeeper. Young Frankenstein believes that the work of his grandfather was delusional, but when he discovers the book where the mad doctor described his reanimation experiment, he suddenly changes his mind.
Release: Dec 15, 1974
Duration: 106 Min
Genres: Comedy, Science Fiction
Gene Wilder
Dr. Frederick Frankenstein
Cloris Leachman
Frau Blücher
Kenneth Mars
Insp. Hans Wilhelm Friedrich Kamp
Richard Haydn
Gerhard Falkstein
Oscar Beregi Jr.
Sadistic Jailor
Arthur Malet
Village Elder
Berry Kroeger
First Village Elder
Ian Abercrombie
Second Villager
Mel Brooks
Werewolf / Cat Hit by Dart / Victor Frankenstein (voice)
Lou Cutell
Frightened Villager